Gypsies object to expansion of Caegarw camp in Margam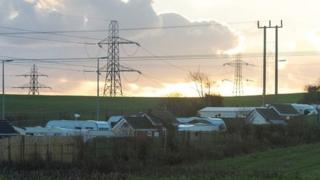 Gypsies living on a site in Neath Port Talbot have objected to the planned expansion of their own site.
The council wants to add 11 pitches and amenity blocks to Caegarw Gypsy and Traveller site in Margam, near Port Talbot.
But residents who live there have launched a campaign against the plan with a "not in our back yard" petition.
The council said the additional pitches were needed and a consultation on the plans had begun.
Margam councillor Rob Jones said he been approached by members of the gypsy and traveller community who hope to block the proposed extension.
The Welsh government has given Neath Port Talbot council money to create more space for travellers in the county.
Gareth Nutt, the council's director of environment, said there was a need for additional pitches up to 2026.