Nurse Colin Buckley struck off register after sex attacks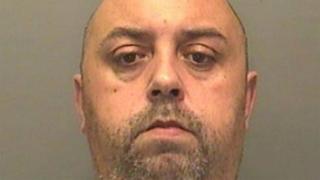 A nurse who sexually assaulted a six-year-old girl after telling her he could cure her has been struck off.
A Nursing and Midwifery Council (NMC) disciplinary hearing was told Colin Buckley, 40, hid behind the "facade" of being a "respectable NHS nurse".
The historic offences came to light when the victim turned 18 and told her aunt what Buckley, of Manselton, Swansea, had done to her.
The hearing in Cardiff found Buckley to be a "continuing risk to the public".
Buckley was jailed for six years in December 2013 after admitting a series of sexual offences.
NMC panel chairman Tim Skelton said Buckley's actions had been "reprehensible" and involved a serious breach of trust.