Cyrenians Cymru: Another arrest as charity collapses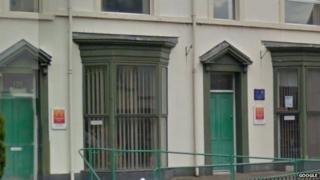 A woman has been arrested as trustees confirmed that homeless charity Cyrenians Cymru has collapsed.
It follows the arrest of the head of finance at the Swansea charity in December on suspicion of fraud worth up to £800,000.
On Wednesday, trustees of the charity said they had taken the decision to declare it insolvent.
Police said a 40-year-old woman has been arrested and released on bail.
Trustees at the charity said the fraud investigation being carried out by the South Wales Police economic crime unit had been "devastating for the charity".
"It is with profound sadness that the Cyrenians Cymru Board of Trustees have taken a decision to declare the charity insolvent and enter administration," said chair of trustees, Mark Sheridan.
"Monies due to keep services running have been frozen, in accordance with the policies of funders, and therefore the charity is unable to meet its financial obligations."
Essential services threatened
The charity confirmed that two members of the finance team had been arrested and dismissed from their posts during the police investigation, which is continuing.
"We are taking legal action for the recovery of all losses," added trustees.
The Charity Commission watchdog has also been informed of the latest developments.
The charity offers a range of services to homeless and disadvantaged adults.
It said it was running 10 projects with 75 staff.
"We will continue to make every effort, with partners and funders, to ensure that these essential services have a future," said Mr Sheridan.