James Colton inquest jury considers killer's cancer death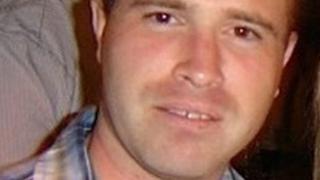 An inquest jury has retired to consider its conclusion in the case of a Welsh prisoner whose cancer was diagnosed just two days before he died.
James Colton, 34, from Swansea, died in hospital after complaining about back pain for months, Worcestershire Coroners' Court heard.
The inquest has heard of the failings of doctors, nurses and other staff at Long Lartin prison in Worcestershire.
Colton was serving a life sentence for the murder of his friend in 2012.
Summing up the case to the jury, coroner Geraint Williams told them to consider the evidence around Colton's diagnosis of "mechanical" back pain and the subsequent care given to him.
They were also told to consider his cause of death and "whether he might have survived or his life might have been prolonged by an earlier diagnosis".
'Exaggerating pain'
The week-long inquest in Stourport-on-Severn has heard that healthcare staff at Long Lartin prison accept they failed in a duty of care to Colton.
The jury heard that an inmate had told staff that Colton was "exaggerating his pain" in order to get out of the prison.
A post-mortem examination found James Colton died from malignant melanoma - a type of skin cancer.
He died in August 2013, four months after he was transferred from Cardiff prison.