Jonathan Norbury trial: Woman was 'teacher's lover at 15'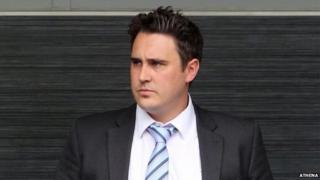 A woman who said she started a secret sexual relationship with a primary school teacher at 15 has insisted the decision to break her silence was not motivated by jealousy.
Jonathan Norbury, 33, is on trial at Swansea Crown Court accused of sexually touching two girls and inciting them to perform sex acts on him.
He denies all the charges.
He admits to being in a sexual relationship with the girls but after they were above the age of consent.
Neither girls were taught by him but he has been suspended from his teaching job pending the outcome of his trial.
Complainant A said she and the defendant became lovers when she was 15 and would regularly go for a drive in his car to secluded spots where they would have "sexual contact".
She told a jury their relationship carried on until she was around 19, although she agreed not to tell anyone because it might affect his respected position at a local church.
The woman insisted it was the police who contacted her about Mr Norbury after detectives began investigating allegations involving him and another 15-year-old.
The jury has heard both the prosecution and defence cases hinge on when Mr Norbury's sexual relationship began with the girls.
During cross-examination today, Elwen Evans QC, defending, asked the witness to "help" the jury in clarifying when she and Mr Norbury became an item.
The woman said she could remember it because she and Mr Norbury had sexual contact in the run-up to losing her virginity, which she said happened a few weeks after her 16th birthday.
But she said she could not remember exactly the month when she and Mr Norbury first met or when they started seeing each other sexually.
The trial continues.