Abandoned lonely micro-pig gets offers of homes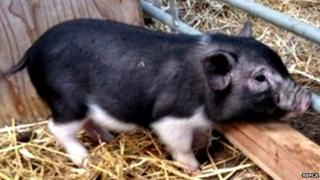 An abandoned micro-pig, which was an unwanted Christmas present, is set to have its pick of new homes after receiving more than a dozen offers.
The piglet was discovered in a garden in Ystalyfera, Neath Port Talbot, and is currently being looked after by a vet.
RSPCA said it had been contacted by 13 applicants interested in taking the pig on following an appeal.
But it said pigs were not appropriate pets because of their specific needs.
On Thursday the charity asked for help to rehome the black and white hog, which is lonely and keeps trying to break into a sheep pen for company.
The charity warned against buying micro-pigs as presents because they can grow up to 150kg (23 stones).
They are social animals and if kept in the wrong environment they can become destructive and aggressive, the charity said.