Swansea's Penlan RFC rugby mums start their own team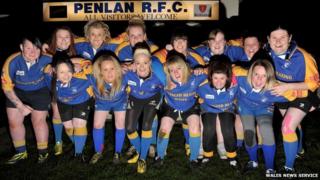 A group of women who met at their sons' rugby training decided they wanted to do more than stand at the sidelines - so they started their own team.
The mothers of Penlan RFC in Swansea may have lost 66-0 in their first match, but they are determined to improve.
Team coach Mike Rush said the women had been training hard for two months and were now looking for a win.
Captain Karen Andrews said: "We decided to give it a go."
She added: "I've got boys who play and they think I'm off my head to get involved.
"It is a rough game, and your heart has to be in it to play."
'Little reluctant'
The team has been training with other members of the club, including the men's team.
They lost their first match 66-0 against the more experienced Ynysybwl in the Women's Super Cup.
But Mr Rush, who plays prop for the club's first team, said they hoped to improve.
"It started with a couple of mums from the junior section," he said.
"They didn't know a great deal about playing the game at first, but they've got stuck in hard to training as a team.
"I'm not sure they liked the hits at first; they were a little reluctant, but they've really got involved now."