£1m Gower chalet charge challenge before law lords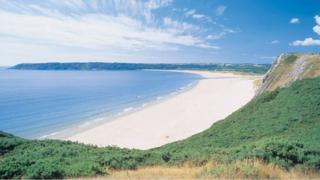 A case which has left holiday chalet owners facing bills of over £1m in the final year of their leases has gone before the UK's Supreme Court.
The lease charge at Oxwich Leisure Park, Gower, was £90 per year in 1974 when the 25 tenants signed agreements.
But they contained an allowance for annual inflation and by the time the 99-year tenancies come to an end, the charges will have soared to £1,025,004.
Five law lords are hearing the owners' appeal to challenge the charges.
They have been asked by the tenants to over-rule earlier High Court and Appeal Court decisions in favour of the landlord.
The legal test case opened in the Supreme Court with the revelation that the landlord of the site could be willing to negotiate the terms of the leases.
When the tenants signed their agreements in 1974, they contained an allowance for annual inflation of 10% at a time when the rate was 16%.
At the end of the hearing the law lords will reserve their decision and give it in writing later in the year.