Nina Holmes Bulgaria death: Misadventure conclusion over drugs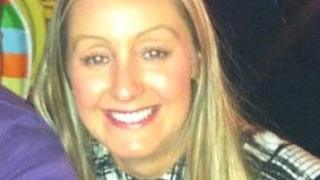 A Swansea woman died on holiday in Bulgaria after taking a drug she thought was cocaine, an inquest ruled.
Nina Holmes, 33, had been drinking with friends when she collapsed in the ski resort of Borovets on 3 February 2013.
The group had "chipped in" to pay about £200 for five small bags of the drugs outside a nightclub.
The drug ingredients remain a mystery but were responsible for the death, the Swansea hearing found as a conclusion of misadventure was recorded.
"I am satisfied that five small bags of powder were purchased from a person called Stella for a sum equivalent to some £200," ruled the Swansea and Neath Port Talbot Acting Coroner Paul Bennett.
"Precisely what it contained is unclear. Nina thought she was taking cocaine."
A pathologist said the cause of death was acute cardiovascular and respiratory insufficiency brought about by poisoning and drug toxicity.
DC Paul Howells from South Wales Police told the inquest there were concerns about the drugs purchased by the group, because the contents were not a white powder as they had expected.
'Panicking'
Instead, it was a brown or green colour and was grainy.
The inquest heard how Ms Holmes had said to other members of the group: "This stuff is strong" in the minutes before she collapsed.
The emergency services were called but despite efforts to resuscitate her she could not be saved.
Ms Holmes's boyfriend, Dean Herbert, told the hearing that he did not want to buy drugs from the rep but wanted to buy it from another source.
Paul Findlay, who fell ill in Borovets after taking the drugs, told the inquest that he still snorted the powder even though he didn't think it was cocaine.
He said: "I was given a small bag. It didn't look like cocaine. I felt it getting stronger and stronger. It was a lot stronger [than cocaine].
"At first I felt good on it, but as it got stronger and stronger, I started panicking a bit."