Revenge porn victim: 'Don't send explicit photos'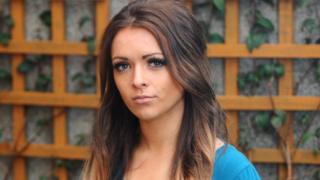 A woman who was the victim of revenge porn when her ex-boyfriend posted explicit pictures of her online has warned others not to share intimate pictures of themselves with partners.
Cazine McCarthy from Haverfordwest sent Nathan Lloyd an image of her wearing underwear and an intimate video while they were a couple.
He posted them to her Instagram account once they had split up.
Lloyd, 22, pleaded guilty to sending an obscene or offensive image.
Ms McCarthy, 20, said: "I was unsure at first but he [Lloyd] reassured me. He said I could trust him and that he would never show anyone else.
"Looking back I wouldn't have sent him the photo or the video but I can't change what happened.
"What I can do is discourage other young women from making the same mistake."
Revenge porn involves people uploading sexually explicit content of ex-partners without their permission.
It is in the process of being made a specific offence in the Criminal Justice and Courts Bill, but can already be prosecuted under several existing laws.