Jonathan Norbury trial: Teacher denies under-age sex claims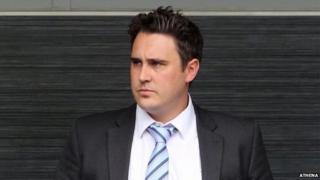 A primary school teacher has told a jury he was "stupid" to have relationships with two teenagers, but did not engage in under-age sex.
Jonathan Norbury, 33, told Swansea Crown Court one of the women was unhappy they had split up.
He admits to being in a sexual relationship with the two - but after they were above the age of consent.
He denies sexually touching the girls when they were 15 or inciting them to engage in sexual activity.
A devout Christian, Mr Norbury told the jury he had kept his relationships a secret for fear of being disciplined by a "strict" church where he had long been a member.
Text messages
He said that fear prompted him to end his relationship with one of the women.
"How did she respond when the relationship finished? She was unhappy," he told the jury, as he gave evidence in his defence.
"We did see each other off and on for a few years but it absolutely finished."
But he said the woman would sometimes follow him in his car, and sent him text messages.
"There was one incident when I went to the theatre with friends she was sending me texts saying she knew I was in Swansea with a woman... so I switched my phone off.
"When I switched it back on I was bombarded with with text messages - one of them said 'I can see you'."
In her evidence, one complainant told the jury she would go for drives with Mr Norbury in his car when she was 15, before having "sexual contact".
Mr Norbury denied that allegation, and insisted he would not have got involved with a girl under 16.
Asked why he had started a relationship with someone almost a decade younger than him, he said: "I was stupid.
"I cared for her and she showed me attention. Looking back I can see how stupid I was.
"At the time I thought I loved her."
Neither of the two complainants in the case were taught by Mr Norbury.
He remains suspended from his teaching job pending the outcome of his trial.
He denies nine charges of sexually touching, and four of inciting a person under 16 to engage in sexual activity.
The trial continues.