Teacher Jonathan Norbury cleared of under-age sex charges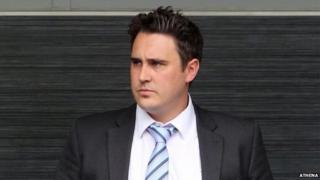 A primary school teacher has been cleared of having sex with two under-age girls at Swansea Crown Court.
Jonathan Mark Norbury, 33, was found not guilty of nine counts of engaging in sexual activity with a child and five of inciting a person under the age of 16 to perform sex acts.
He had denied the charges but admitted having a relationship with both girls after they were above the age of consent.
Mr Norbury did not teach either girl.
The prosecution had alleged Mr Norbury would pick up one of the under-age girls in his car before driving to secluded spots in south Wales to engage in sexual activity.
The court was also told he urged the teenager to keep their relationship a secret.
But in his defence, the devote Christian said he kept his relationships a secret because he feared he would be disciplined by the "strict" church where he had long been a member.
He said that fear prompted him to end his relationship with one of the women, who was unhappy when they split.
Mr Norbury was suspended from his teaching job pending the outcome of his trial.
Speaking after the hearing, Mr Norbury said he was glad the case was over.