Swansea's tribute to homeless man Tea Cosy Pete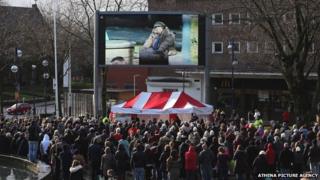 A crowd of about 300 turned out to pay their respects after the death of well-known Swansea character, Tea Cosy Pete.
He has been a familiar face in the city centre for as long as many can remember as he had chosen to live on the streets.
Images of Tea Cosy Pete were shown on the city's big screen, which he dubbed his personal TV and from where he would be seen enjoying sports programmes.
A minute's silence was held during the service following his death this week.
"The city will miss him," said radio presenter Kevin Johns, who is also a chaplain at Swansea City FC.
"He never gathered up possessions... and chose to live a simpler lifestyle.
"He reminds us we should never judge on appearances."
Mr Johns addressed the crowd along with other people who shared their stories about Tea Cosy Pete about whom songs have been written over the years.