CCTV monitoring stopped by Carmarthenshire council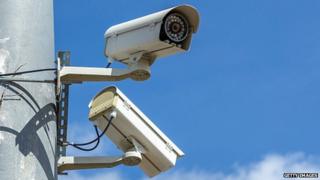 CCTV cameras across Carmarthenshire will no longer be monitored by council staff after their funding was cut.
It comes after the Dyfed-Powys police and crime commissioner said it was of little value and stopped payments towards it.
The council's executive board said it could not afford to make up the funding shortfall and said ending CCTV monitoring would save £100,000 a year.
The money will instead go to keep Meals on Wheels services running.
Carmarthenshire council said the CCTV cameras around the county would remain in place and would stay on, but police would have to be responsible for any future monitoring.
The council is now in talks with the affected members of staff.
Dyfed-Powys Police and Crime Commissioner Christopher Salmon previously commissioned a review which concluded that CCTV cameras do not deter crime.