Gypsies lose bid to stop expansion of Caegarw camp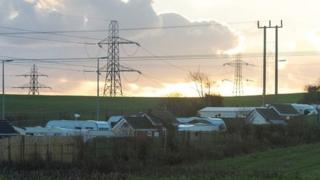 Gypsies have lost their battle to stop plans to expand their site in Neath Port Talbot.
The group living at Caegarw Gypsy and Traveller site at Margam claim it is already overcrowded and an additional 11 pitches will make the situation worse.
But council chiefs threw out their protests and said more pitches were needed.
One resident said there would be "an exodus" to local car parks in protest.
"Most people here are happy with the way things are and don't want this changed," he said.
"If it goes ahead people will be setting up in the first car park they come to. That's what I'll be doing.
"We have lived here since it opened 30 years ago, a lot of people have, but this will drive them back to their old way of life."
Gareth Nutt, director of environment at Neath Port Talbot council, said there was a need for additional pitches up to 2026.