Haverfordwest Army medic returns from Ebola fight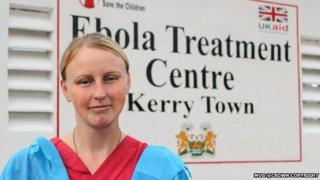 An Army medic who travelled to Africa to help tackle the Ebola outbreak has returned home.
Pte Charlene Bevilacqua worked as a health care assistant in an Ebola treatment centre in Sierra Leone as part of the UK's aid effort.
The 25-year-old was responsible for monitoring and assessing patients when they were admitted.
When in the UK, Pte Bevilacqua, works at the Ministry of Defence Hospital Unit in Frimley Park, Surrey.
"I would like to thank everybody who sent me parcels and I love my husband and all of my family," Pte Bevilacqua, of Haverfordwest, Pembrokeshire, said.