Swansea siege man is detained under Mental Health Act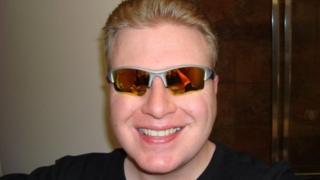 A man who held a waiter hostage in a restaurant at the top of Wales' tallest tower has been detained under the Mental Health Act.
Lindsey Edward Coffey, 39, of Pontlliw, had admitted possession of an imitation firearm and false imprisonment in Swansea's Meridian Tower.
A sentencing hearing at Swansea Crown Court was told he suffers from an acute schizophrenia-like psychotic disorder.
Ian Williams was held at gunpoint during last August's siege.
He said Coffey ordered him to get the key to balcony at the Grape & Olive restaurant as he wanted to commit suicide.
After other staff and customers left the restaurant, Mr Williams managed to contact police who then entered the skyscraper and used a stun gun on Coffey.
Consultant psychiatrist Richard Maggs told the court the defendant suffers from an acute schizophrenia-like psychotic disorder.
"Not enough time has passed to diagnose schizophrenia, but indications are that it probably is schizophrenia," he said.
Judge Keith Thomas QC said detained Coffey under section 37 of the Mental Health Act to Cefn Coed psychiatric hospital in Swansea, but the judge did not impose a time limit on his treatment.
"I want to pay tribute to Mr Williams and staff and others who responded in a cool, calm and collected manner to what appeared to be a serious and significant threat," he said.
"Everybody believed you had a gun and that was a truly terrifying sight for them and terrifying for Mr Williams"
Defence barrister Dyfed Thomas told the court: "He is remorseful. He wishes to apologise to Mr Williams and all those present at the restaurant."