Premier League live football: Pub landlord copyright appeal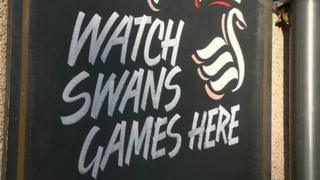 A Swansea pub landlord who lost a legal battle over showing live Premier League football has won permission to appeal.
Anthony Luxton was caught using a foreign satellite card at the Rhyddings pub and had to pay £65,000 in costs.
The Premier League won a judgement last year saying he breached its copyright by showing the pictures in a "public setting" which used its logo.
A judge at London's Civil Appeal Court, however, said it was "realistically arguable" he should have won the case.
Mr Luxton argues that UK landlords are "illicitly" prevented from obtaining commercial decoder cards from abroad, contrary to European law.
The next hearing, before three senior Appeal Court judges, will take place on an as yet unspecified date.