Milford Haven coastguard launch new operations centre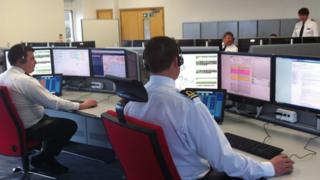 A new state-of-the-art operations centre for the coastguard has opened in Milford Haven.
The centre is part of the new national network, a reorganisation of coastguard stations around Britain.
Following the announcement the Swansea centre will close on 6 March, with the loss of 11 posts, the Milford Haven coastguard will now cover an area from Gloucester to Pwllheli.
The Milford Haven operation centre's new facility went online on Monday.
A reorganisation of the UK coastguard was first announced by the UK government in December 2010.
Initially two of the three coastguard stations in Wales were to close under the proposals - Holyhead and Milford Haven.
However, a protest in Milford Haven saw a million people sign a petition with campaigners arguing closing stations would put lives at risk.
In November 2011, the government issued revised plans with Milford Haven and Holyhead to stay open, but with Swansea axed.
Swansea will stop operating as a control centre, but will remain as a coastguard base used for training and other activities.
Speaking about the new centre, Carl Evans, operations controller at Milford Haven, said: "We are now going to be a part of a national network.
"Previously all coastguard rescue co-ordination centres operated in isolation.
"Now we can work as a virtual unit nationally and can call on colleagues from around the country."