WW2 airman's resting place saved from German bulldozers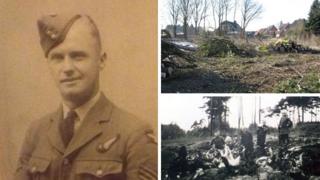 The resting place of a World War Two airman from Swansea has been saved from German bulldozers.
Sgt Ronald Barton and his comrades are believed to be buried beneath a field earmarked for development.
The eight men were flying their 30th and final bombing mission when they crashed near Cloppenburg in 1944.
Sgt Barton's family have now negotiated with German authorities to allow an archaeological excavation to take place before building begins.
The location of his final resting place was lost after the end of the war, but was recently rediscovered by his granddaughters.
After learning it had been sold to property developers, Julie Barton, 52, and Debbie Bartlett, 48, visited the site in February and met with eyewitnesses who remembered the crash.
Two of the bodies were recovered from the bomber by German soldiers but six others are still believed to be in the ground along with the wreckage.
Former BBC Wales journalist and media producer Ms Barton, from Beddau, near Pontypridd, said: "The eye witnesses we met are convinced there are still people in the ground and lots of the plane.
"After a lot of negotiation we now have confirmation that the Germans will do a proper investigation of the site on Monday and Tuesday there will be representatives from the German War Graves Commission present.
"The Ministry of Defence have told us they will carry out DNA testing if substantial remains are recovered."
Sgt Barton grew up in Swansea but moved to London after failing to get into Swansea Police due to his short stature.
He joined the Metropolitan Police who had a lower height restriction and was living in Streatham when he enlisted in 1943.
On October 6, 1944, Lancaster PD214 set off from RAF Metheringham in Lincolnshire on what was meant to be the crew's last operational mission - a massive bombing raid on the German industrial city of Bremen.
Nothing was heard from the plane after take off, and the crew was listed as missing.