Rhossili Bay, Gower, voted 11th best beach in Europe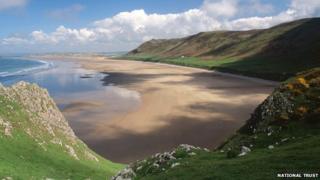 A Gower beach has been voted one of the best in Europe to visit.
Rhossili Bay on the Gower peninsula is 11th on a list of best European beaches in a survey of worldwide tourists by the TripAdvisor website.
It also came third among beaches in the UK, losing the top spot it held for the past two years.
Woolacombe beach in Devon and Weymouth beach in Dorset were first and second respectively in Britain, while Rabbit beach in Italy topped the Europe vote.