River Towy search for Cameron Comey ends for fourth day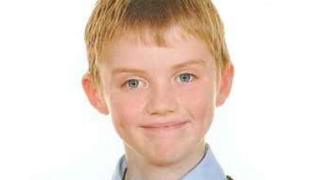 The search for a missing 11-year-old boy in a Carmarthen river has ended for the fourth day.
It is feared schoolboy Cameron Comey, who is from the town, fell into the River Towy on Tuesday after playing with his brother nearby.
The rescue operation will now resume for a fifth day on Saturday morning.
Dyfed-Powys Police said it will maintain a presence at the scene and trained officers are supporting the family.
Since Cameron disappeared, a team of 50 has been helping in the search to find him, including police officers, the fire service and lifeboat volunteers.
Meanwhile, more than 140 people gathered at St Peter's Church in Carmarthen to light candles and say prayers for Cameron on Friday morning.
Representatives from the emergency services and Queen Elizabeth High, Cameron's school, attended.
Headteacher Peter Spencer said: "We are all praying for Cameron and the thoughts of the whole school community are with his family.
"We will be holding a series of special assemblies when school returns on Monday and have planned additional support to help pupils and staff to get through this difficult time."
Wyn Thomas, Carmarthen town sheriff, said: "It's a big cloud over the town.
"Everybody's thoughts are with the boy and his family."
Cameron's family has thanked the public for its support in a post on a Facebook page.
The little boy's aunt, Denise Comey Jones, wrote: "We would like to thank the people of Carmarthen for all the kind caring messages through this page and on Facebook.
"It's so nice to know the whole family is thought about especially our beautiful Cameron who we are missing so much. We love you Cameron."
The search has been focused on a spot known locally as "the steels" as it is where Cameron is believed to have fallen in.
It is given that name because of steel plates forming new banks after the river was moved to make way for a new dual carriageway.
Children are known to like jumping into the river and they called it "22" because they believe it is 22ft deep.