Candlelit vigil for Cameron Comey as day six of search ends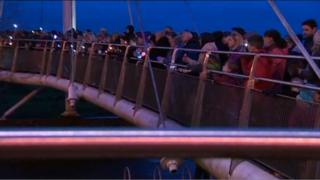 A candlelit vigil has been held in Carmarthen for missing schoolboy Cameron Comey.
About 350 people attended and candles of hope were lit for the 11-year-old, who fell into the River Towy on Tuesday.
The ceremony took place on King Morgan Bridge on Sunday evening and began as the sixth day of searching was called off.
Dyfed-Powys Police said the search will resume on Monday morning.
The service on the bridge saw a two-minute silence held for Cameron as well as singer Jole Harding performing the song Bring Him Home from Les Miserables.
People lit candles and held up torches and their mobile phones. Members of Cameron's family were also in attendance.
Organiser Jenny Fox said: "I just felt we needed to come together as a community.
"We needed to make and effort for the family and show our support."
This ceremony follows a service at St Peter's Church in Carmarthen on Friday.
More than 140 people, including representatives from the emergency services and Queen Elizabeth High, Cameron's school, attended.