Hundreds attend funeral for homeless man 'Tea Cosy Pete'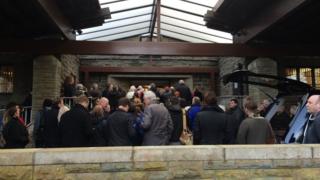 Hundreds of people have attended the funeral of a Swansea homeless man who was affectionately known as Tea Cosy Pete.
Brian Burford, who died of a stroke in January, was a familiar face to many after living on city centre streets.
His funeral service was held at Morriston Crematorium and led by Sean Stillman of homeless charity Zac's Place.
Mr Stillman said the people of Swansea had "lost a friend".
The funeral came after hundreds of people turned out to pay their respects to Mr Burford at a memorial in the city centre in January.
Images of Mr Burford were shown on the city's big screen, which he dubbed his personal TV and from where he could be seen enjoying sports programmes.
Speaking at the funeral on Wednesday, Mr Stillman said Mr Burford was understanding and stubborn and there was a great sense of loss in the city since his death.
The 66-year-old, once a school friend of former Archbishop of Canterbury Dr Rowan Williams, became well-known in his home town after walking 12 miles (19km) in the rain to return a lost wallet containing hundreds of pounds.
Not a single penny was missing and the "gentleman of the road" refused any reward from its stunned owner.
That act of kindness was never forgotten - prompting saddened locals to dig deep and ensure the popular tramp did not have a pauper's funeral.
Mr Stillman said: "He was a very private man and carried the same fears and doubts that we all have.
"But he was as intelligent as he was sober and could talk about music, the arts, literature at great length.
"A man's life should not be judged by how much he has in bag or what he stores in his mansion... but what he carries in his heart."