Eirian Davies wins £1.3m of family farm in Carmarthenshire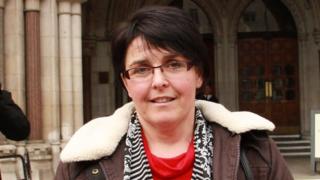 A farmer's daughter has won £1.3m after working on her parents' farm for nothing as a teenager while her sisters were having fun.
Eirian Davies, 45, was repeatedly told she would inherit most of Caeremlyn Farm near Whitland, Carmarthenshire.
But a draft will was changed to put the farm in trust for all three sisters and in 2012 her parents tried to evict her.
However, she won compensation at the High Court in Cardiff on Wednesday against her parents.
It follows a Court of Appeal ruling that she was due a share of the business for the years of unpaid and low-paid labour she carried out.
Miss Davies told a court she missed out on going to Young Farmers' Club dances with her two sisters, Enfys and Eleri, as a teenager because she had to stay at home to deal with her chores.
"They always told me that the farm would be left to me," she said of parents Tegwyn, 75, and Mary Davies, 76.
"Even on my birthday, when the other girls were having things, they would say, 'you will have the damn lot one day, it will all be yours'."
A court heard her father would regularly warn her "not to kill the goose that lays the golden egg" if she complained about her treatment.
Mr and Mrs Davies argued compensation should be measured by a sum of money enabling their daughter to buy a house.
The court said this would not truly reflect Miss Davies's suffering - nor the nature of the promise that she was made.
It was ruled that the farm was worth about £3.8m and an "appropriate award" for Miss Davies would be £1.3m.