David Mitchell sets Swansea clocks to 12 o'clock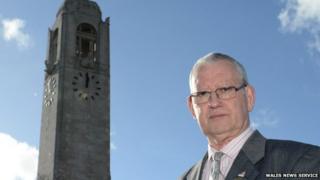 Clocks in Swansea are standing still after the official responsible for maintaining them retired.
Official horologist, David Mitchell, set eight of the city's landmark clocks to midnight on his final farewell - citing safety reasons.
The city council says it is putting a new contract in place for the clocks.
But it means the hands on clocks at the city's Guildhall, St Mary's Church and historic old police station remain firmly stuck at 12 o'clock.
"I have been doing it since 1985 until I finished last week with no-one to replace me," explained Mr Mitchell, the only fellow of the British Horological Institute in south Wales.
"But I stopped the clocks on safety grounds on Saturday.
"I didn't want the weights falling over on the pulley systems. Swansea has stopped."
Swansea council said it was in the process of offering a new contract to Mr Mitchell so "the clocks can be started up" and "continue to be maintained for the next 12 months".
People in the city were baffled by all the stopped clocks.
Office worker Deidre Spencer, 58, said: "It is all a bit strange because I've been looking at the Guildhall clock for years. They say time stands still for no-one - but it does for Swansea council now."
A council spokesman said: "We are hopeful we can finalise the latest contract details quite quickly so that the clocks in council-owned buildings can continue running.
"The long-term aim is to install automated winding systems into the council-owned clocks to provide a more efficient solution to reduce future costs."