Swansea's official clock keeper to clock on once more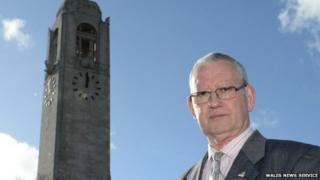 Public clocks in Swansea are to be restarted after the city council agreed to renew the official clock keeper's contract.
Horologist David Mitchell, who maintains and winds the city's clocks, said his contract ended in November.
On Sunday he set eight of the landmark timepieces to midnight until a new arrangement was reached.
Now Swansea City Council has given him a year-long contract until it fits automatic winding mechanisms.
Swansea has a special by-law which gives the council responsibility for maintaining the clocks on a range of public buildings, including the city's Guildhall and historic old police station.
A spokesman for Swansea council said: "We are in the process of offering a new contract to Mr Mitchell so that the council-owned clocks can be started up as soon as possible and continue to be maintained for the next 12 months."
Mr Mitchell said he is looking forward to returning to work.