Swansea Coastguard's 999 emergency service closes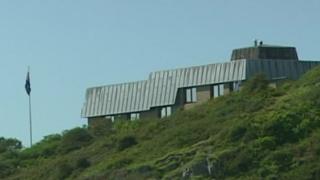 Swansea Coastguard station's emergency call handling service has closed as part of a UK government reorganisation.
The station on Mumbles Head is one of eight Maritime and Coastguard Agency 999 response centres that are closing.
Eleven members of staff have taken voluntary redundancy.
Emergencies will now be handled by the Milford Haven station, which will cover an area from Marsland Mouth on the Devon and Cornwall border to Friog in Gwynedd.
Coastguard rescue team volunteers, building marine surveyors and training will remain at the Swansea station.
The operational changes will see three workers from Swansea transferring to Milford Haven while five will move to the Coastguard Rescue Service.
Campaigners had claimed the closure would put lives at risk off the Swansea and Gower coastlines and in the Bristol Channel.
A 110,000-signature petition failed to halt its closure, but Holyhead and Milford Haven stations, which were also under threat, were reprieved.
Chief coastguard Richard Martin said: "There is no reduction in frontline resources, including coastguard rescue teams, lifeboats, rescue helicopters and other rescue facilities."