Parents take children out of school for year to go around world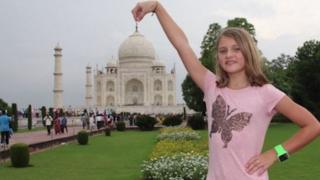 An adventurous Carmarthenshire couple gave their children the lesson of a lifetime by taking them out of school for a year to go around the world.
Adele and Paul Davies, from Llandybie, decided to "home school" their two children - even though they were thousands of miles away from Wales.
Their "geography lesson" was a tour of the globe taking in 12 countries.
Mr Davies, a deputy head teacher, said he and his wife wanted their daughters to learn by seeing different cultures.
The couple said their girls Lili Mai, nine, and Nel, seven, "tasted the freedom of life without the restraints of health and safety".
The family saved for nine years for the trip that took them to Canada, China, India, America, Fiji, New Zealand, Australia, Malaysia, Cambodia, Vietnam, Thailand and Brittany.
Lili said: "We enjoyed everything about our journey.
"Everything was new and exciting. Hearing new accents and languages was cool.
"Not going to school for a year was a new experience for Nel and I, but learning something new every day was easy."
Mr Davies, 40, said he has no regrets about taking the children out of Ffairfach Primary School in Carmarthenshire to go travelling from September 2013 to August 2014.
"Our girls learnt so much along the way," he said.
"Every new country was a lesson in itself.
"Their numeracy skills were improved as they worked out exchange rates and new currency and their communication skills and confidence grew daily.
"We wanted the girls to taste freedom without the restraints of health and safety."