200 attend meeting over M4 junction 41 Port Talbot closure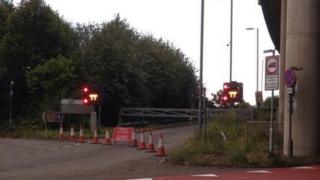 Traders unhappy about the closure of a motorway junction took part in a public meeting on Thursday as the eight-month trial comes to an end.
The westbound on-slip of M4 junction 41 at Port Talbot shuts on weekdays from 07:00 to 09:00 and 16:00 to 18:00 GMT.
There are claims it has led to a drop in footfall at the nearby Aberafan Shopping Centre and there are fears the trial could be made permanent.
But the Welsh government said no decision has been made.
A spokesman added: "The trial period is due to finish at the end of March and the minister will make an announcement in due course."
About 200 people attended the meeting on Thursday evening at Port Talbot's Princess Royal Theatre.
Steve Garvey, president of Port Talbot Chamber of Trade, said: "One of the main things is that our working day usually starts at nine and finished at five.
"But now people go home at 3:30 because they don't want to get caught in traffic.
"We've lost a couple of traders - they didn't have the afternoon trade and they had to shut the doors."
Aberafan shopping centre manager Steven Redmore said: "The problem that we have got is that our footfall has been dramatically affected without a shadow of a doubt.
"I feel sorry for the residents as well as the traders. Hopefully, we can turn it round if we all stick together."