Service in Carmarthen for missing Cameron Comey, 11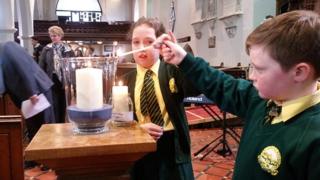 A church service has been held in Carmarthen to mark a month since an 11-year-old schoolboy went missing in a river.
Cameron Comey fell into the River Towy on 17 February after playing with his brother nearby.
Specialist teams including the police, fire service, coastguard and lifeboat teams had joined the search, which has since been concluded.
The service was held at the town's St Peter's Church.
Candles were lit for Cameron, and the Rev Leigh Richardson, who led the service, said: "Even the smallest light burns bright in the heart of darkness."
Pete Spencer, the headteacher at Queen Elizabeth High School where Cameron is a pupil, said: "It's a very difficult time and, a month on, I think it's important, upsetting as it may be, that they [pupils at the school] do have the opportunity to express their emotions."
Cameron's family did not attend the service, but Mr Spencer said the youngster's parents were finding the "united support of the whole community a great source of comfort".
A Dyfed-Powys Police spokesperson said: "Supporting the family through this ordeal is our priority, and a specialist officer is keeping them fully informed.
"Specialist searches have concluded after every possibility was exhausted. But periodic patrols of the river by the marine section and from the air continue to take place."
Organisers of the Carmarthen River Festival announced on Facebook that the event had been postponed while the search for the schoolboy continues.
Chairman Steve Bright wrote: "It is hoped that we can review this decision in the early part of the summer (during June) in order to assess the feelings of the community as to whether we hold a festival later in the year or not.
"Condolences and kindest regards to all concerned."
A vigil is also planned to take place at the town's King Morgan Bridge on Sunday to show support for Cameron's family.