'More needed' on The Kingsway, Swansea, after bus death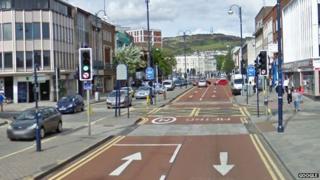 The controversial layout of a main road in Swansea city centre where a second person died in the space of 18 months needs to be changed, businesses said.
Off-duty police officer Sgt Louise Lucas died after being hit by a bus on The Kingsway on Tuesday and her eight-year-old daughter had minor injuries.
In September 2013, Daniel Foss, 37, from Reynoldston, Gower, died after being struck by a National Express bus.
Swansea council is installing temporary barriers but businesses want more.
They want the road to be returned to a straightforward two-way system, like it was before the changes were made in 2006 to accommodate a bendy metro bus.
Currently, one side of the dual carriageway is one way for normal traffic and the other side is two ways for buses and taxis but there have been a number of incidents.
Richard Jones, who owns Moda Collections on The Kingsway criticised the introduction of railings.
"It's pointless because it will not help and will not resolve the problem because the first person that was killed was killed on the crossing," he said.
"The fundamental problem is the metro lanes - they are flawed and dangerous. It goes against the natural flow for the dual carriageway.
"They have to stop the buses running eastbound on the south carriageway. I see people stepping out into the road and near-misses or injuries.
"How it's got to this stage where we've had a second death is beyond me."
More than 3,000 people signed a petition calling for changes, including a return to a traditional two-way system on The Kingsway after the first death and Swansea council dropped the speed limit to 20mph last year as an initial response.
Julie Williamson, branch chairwoman on the Swansea Bay federation of Small Businesses, added: "I really do feel something dramatic has to be done but I'm pleased to hear the council has taken this initial action in the short term.
"It's very, very sad to think that something like this happens before anything is looked into."
Cllr Mark Thomas, Swansea Council's cabinet member for environment and transportation, said: "We are now taking immediate steps to further improve safety for pedestrians by introducing temporary barriers along the central reservation on The Kingsway.
"We will also be holding urgent discussions with the police and bus operators to consider further safety measures which, subject to their agreement, may include re-routing buses and potentially changing the direction in which they travel on The Kingsway."