Pembrokeshire's Victorian fort opens to the public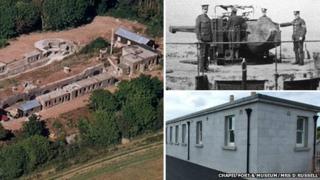 A Pembrokeshire Victorian fort and its accompanying museum has opened its doors to the public for the first time.
After years of restoration work and with help from volunteers, Chapel Bay Fort and Museum at Angle officially opened on Friday.
Completed in 1891, the coast artillery fort is the earliest known fort in the world constructed in concrete.
Built in the 19th Century, it the last of 12 such forts built to defend the Milford Haven Waterway.
Visitors to the fort will be able to view the biggest gun and shell in Wales; a 25-pounder gun howitzer, a 5.5 inch gun and a 10 inch, 18 ton rifled muzzle loading gun.