People scaling safety barriers on Swansea death crash road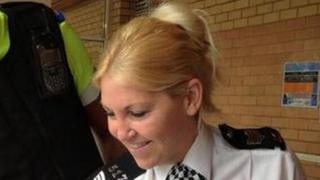 Pedestrians in Swansea have been jumping over road barriers installed after the death of an off-duty police officer who was hit by a bus.
Bus drivers on the The Kingsway have seen people vaulting barriers which were erected after the death of Sgt Louise Lucas, 41, on 31 March.
First Cymru says its drivers are being cautious and will sound their horns to warn anyone seen scaling the barriers.
Swansea council urged people to use the designated crossing points on the road.
The bus company said the issue seemed to be a problem mostly on Saturday.
The 1.2m-high barriers were put in place following the death of the South Wales Police officer, a mother-of-three.
The council says it is looking at a package of security measures to deter people from crossing at anywhere other than designated points.