Jason Beynon jailed for historical sex assault on child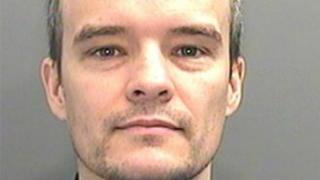 A man jailed for trying to abduct a schoolboy has been handed a further prison term for sexually assaulting a child more than 20 years ago.
Jason Beynon, 41, of Swansea, was found guilty of gross indecency with a child, indecent assault and two serious sexual assaults following a trial in February.
Swansea Crown Court heard Beynon was 16 when he assaulted the younger boy he befriended in the early 1990s.
His victim came forward after hearing about his earlier conviction.
Beynon's trial heard the offences took place over an 18 month period and the first incident took place in the toilets of a holiday park where they were both on holiday.
His victim told BBC Wales he went to police after seeing news stories about Beynon attempting to abduct an 11-year-old boy in the Gorseinon in 2014.
"I saw the media reports about the attempted kidnapping and felt I had no choice but to speak out," he said.
"Not a day goes by when I don't think about what Jason Beynon did to me," he added.
"I was struggling to deal with what happened to me. I attempted suicide.
"No victim should feel they can't speak out, no matter how long ago these things happened. Go to the police."
Judge Peter Heywood sentenced Beynon to two and a half years in prison, which will start when his current sentence ends in December.