Review into Pembrokeshire 'Porschegate' hire car scheme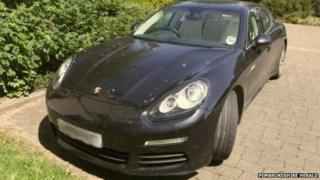 A review will be held into a council's management car lease scheme following a row over its former chief executive's £90,000 Porsche.
Pembrokeshire council spends almost £120,000 a year loaning out cars.
Since the revelation over Bryn Parry-Jones's car, the authority has confirmed its scheme allows 21 chief officers to claim lease car hire fees as part of their contracts.
A council committee has now supported a motion to review the scheme.
Councillor Bob Kilmister, who tabled the motion, told the senior staff committee he wanted to save the authority from being bitten by another "Porschegate".
The council has told BBC Wales the hire scheme is running below its maximum budget of £185,000.