Advice call on sleeping with babies after Neyland death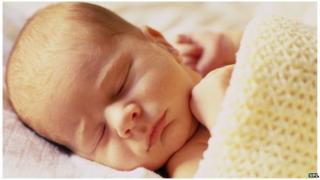 A coroner has called for clarification on the advice given to parents sleeping with small babies following the death of a Pembrokeshire newborn.
Seven-week-old Efan Robert James died in his mother Hannah James's bed at their home in Neyland, Milford Haven, last October.
An inquest into his death heard there was no obvious cause of death and an open conclusion was recorded.
The Welsh government said it would consider the comments and respond.
Pembrokshire coroner Mark Layton said there was "some controversy" over the advice in the Welsh government's document Reducing the Risk of Cot Death and he would be putting his concerns in writing.
He said: "The advice is that it is not wrong to share a bed with your baby - but you should refrain from doing so in if you are 'excessively tired'.
"This is very confusing.
"It suggests that it's okay to go to sleep with your baby if you are not very tired. Very few people will sleep unless they're actually tired."