Burry Port residents warned over garden bonfires after blaze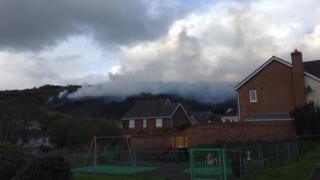 Residents in Carmarthenshire have been warned about garden bonfires after a fire got out of control on Monday.
The A484 Gwscwm Road in Burry Port, Llanelli, was shut for around three hours while five fire crews battled the blaze on the Graig mountain.
Mid and West Wales Fire and Rescue Service said seven hectares (17 acres) of undergrowth were affected.
Arson reduction manager, Steve Richards, said: "People need to be aware that fires are unpredictable."
He added: "Controlled burning, such as a garden bonfires, should be small, adequately supervised and at least five meters away from the property.
"A means of extinguishing the fire should be immediately available, such as a hose pipe or buckets of water."
Mr Richards pointed out that it was inadvisable to set fires at all during sustained periods of dry weather and that petrol should never be used on bonfires.
"Controlled burning should only be undertaken between sunrise and sunset," he said.
"Frequent controlled burning can lead to prosecution, due to the smoke being classed as a nuisance."