Jailed ex-coroner John Owen to face solicitors' tribunal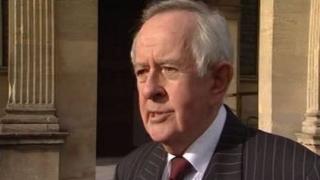 An ex-Carmarthenshire coroner who was jailed for stealing £1m from a dead client's estate faces being struck off by a disciplinary panel.
John Owen was jailed for five years in November 2014 after admitting 17 counts of theft and false accounting.
Owen, 79, from Llandeilo, stole from farmer John Williams after being made executor of his will.
The Solicitors Regulation Authority (SRA) has now said he will face a professional tribunal on 27 May.
It said he faces unproven allegations he made "improper and unauthorised withdrawals from client account" and failed to adhere to the terms of a will of which he was an executor.
There is also an allegation over his conviction.
If the allegations are found proved, the panel could decide to remove Mr Owen from the SRA's professional register.
The SRA closed down Mr Owen's practice in September 2011.