130 factory jobs at risk after fire at Pure Wafer, Swansea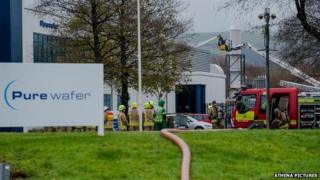 Up to 130 jobs are at risk at a Swansea factory which was destroyed by fire after the firm which owns it decided not to replace the unit.
Nearly 70 firefighters tackled the blaze at Pure Wafer in Llansamlet in December.
The company switched its production of silicon wafers for computer chips to a sister site in the United States.
But now that it has settled its claim with insurers, it has decided not to reopen the Swansea base.
In a statement, Pure Wafer said the decision not to rebuild came "after careful consideration of the costs of rebuilding the factory and replacing the specialist machinery, the time which this would take and the fact that many of the customers of the Swansea facility have already migrated to competitors".
The details of the insurance settlement have not been revealed.
The Welsh government described it as "very disappointing news".
Swansea council said it was "extremely disappointed" with the decision.
A spokesman added: "If our discussions can't convince the company to change its decision then we'll work to mitigate the potential impact this proposal will have on employment in Swansea."