Tale of Welsh passenger rescued from sinking Lusitania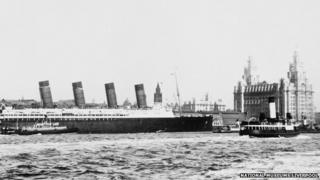 It is 100 years to the day since the Lusitania, the world's largest passenger ship at its time, sank after being attacked by the Germans during World War One.
It was carrying almost 2,000 passengers as it travelled from New York to Liverpool on 7 May 1915.
There were warnings the Lusitania was heading for a warzone, but despite that she set sail for her 101st transatlantic crossing.
During its voyage, the British liner was torpedoed by a German U-boat and sank off the coast of Ireland.
On Thursday, a service is taking place to mark the centenary of the sinking.
On-board was six-year-old Helen Smith from Swansea. She was travelling with her parents and baby brother, as well as other family members.
Elizabeth Joseph, Helen's daughter, recalled how her mother's father brought the family back to Wales after moving them to America for work.
"When the first world war broke out, my grandfather felt very guilty that he wasn't playing his part and in 1915 they decided to come back on the Lusitania," said Elizabeth.
"It had been suggested the Germans would attack it because they considered she had armaments on board but they weren't worried about it because it was the fastest ship and everything went well.
"They set sail from New York heading for Liverpool and they rounded the coast of Ireland when in fact a German torpedo hit the boat.
"There was one huge explosion followed by a second and almost immediately the boat began to list and sink. It sank in just 18 minutes which is no time at all."
Helen was saved by journalist Ernest Cowper who got her to a lifeboat after she became separated from her family.
Her parents and baby brother all died on the Lusitania.
"When they got ashore, Mr Cowper looked after my mother. Eventually my mother's uncles came from Swansea and collected her and took her back to her old family home, her mother's family home. Her two grandparents looked after her. They had 12 children but they tagged her on the end."
She lived the rest of her life in Manselton, Swansea, and went on to have a family of her own. But the events of 1915 always stayed with Helen.
Ms Joseph added: "She was terrified of water, she had a fear of water. She'd been encouraged to forget and most of what we know come from letters from Mr Cowper who stayed in contact with my mother, and from books.
"It was something that had happened. We accepted it but we got on with the present day things. It was something that made her special."