Swansea pottery pioneer honoured with blue plaque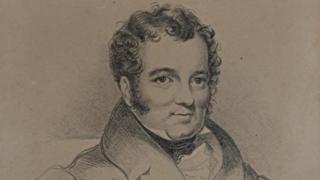 The pioneering owner of a renowned 18th Century Swansea pottery is to be honoured with a blue plaque at his one-time home.
Lewis Weston Dillwyn was in his 20s when he took over the Cambrian Pottery in the early 1800s, turning it into one of the UK's most fashionable brands.
He transformed the pottery - in business since 1764 - using the ideas of Josiah Wedgwood.
The Swansea council plaque will be mounted at Sketty Hall, Singleton Park.
Dillwyn was also a celebrated botanist and authority on marine life, a fellow of the Royal Society, and co-founder of the Royal Institution of South Wales.
In 1839 he was elected Mayor of Swansea.
Despite his early success, producing what became known as the "Swansea Porcelain" range, his decisions led to the ultimate collapse of the pottery within 15 years of his death in 1855.
Councillor Robert Francis-Davies said: "Lewis Weston Dillwyn is thoroughly deserving of this accolade - his track record in business, botany and politics made him a stand-out figure among his peers."