Solar panels to save Carmarthenshire tenants millions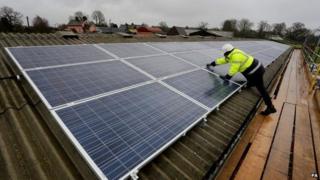 Savings of £6.3m could be made by tenants when solar panels are installed on 2,700 Carmarthenshire council homes, the authority says.
Residents in 32% of the local authority's housing stock could save the figure on fuel bills over 20 years.
The council is looking for a partner to install the panels, with the costs met by the electricity generated.
A £2.1m community fund will address fuel poverty in around 6,000 homes not suitable for solar panels.