Jailed ex-coroner John Owen struck off as solicitor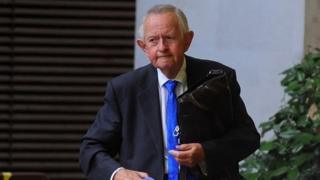 The former coroner for Carmarthenshire, who was jailed for stealing £1m from a dead man's estate for his struggling law firm, has been struck off as a solicitor.
John Owen, 79, from Llandeilo, stole the money from farmer John Williams after being made executor of his will.
He was jailed last year at Cardiff Crown Court after admitting the theft and is serving five years.
The Solicitors Disciplinary Tribunal struck him off on Wednesday.
The judgement will be published at a later date.