Milford Haven's new pilot boats to take on extreme weather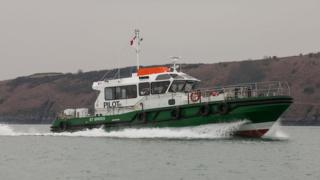 Five-metre waves and tanker turbulence will be no match for Milford Haven's new pilot boats.
St Brides is the first of three 19m (62ft) vessels to be delivered to the Port of Milford Haven, Pembrokeshire, as part of a £3.6m investment.
The 48-tonne boat has been built by Mainstay Marine Solutions and designed to be used in challenging conditions.
She has already been officially blessed by Father Harri Williams before coming into service.
Responsible for transferring pilots to and from ships along the Milford Haven waterway, St Brides is capable of reaching speeds of up to 14 knots.
Alec Don, chief executive of the Port of Milford Haven, said the boats, together with the highly trained crews, were the "backbone" to their ability to provide a safe and reliable service.
The three new vessels will replace the port's current fleet of four pilot boats, including the Hakin, which has been operating in Milford Haven since the early 1980s.