Highmead Foundation School in Llanybydder up for sale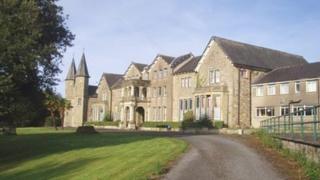 An 18th Century boarding school in Carmarthenshire has gone up for sale.
Highmead Foundation School in Llanybydder was used as a residential school for disabled children between 1956 and 1996.
Set in 27 acres, the 46-bedroom former mansion has an auction starting price of £950,000.
The school was used as an Islamic college from 1998 and was attended by Fusilier Lee Rigby killer Michael Adebowale in 2012.
An MI5 investigation found the college "was not an extremist place."
Jamie Royston, director of Auction House London said the auction lot was "unique".
He added: "The property is special because of its design, large halls and high ceilings. It has very unique spires and lovely views."