Snake put down after being beaten in Haverfordwest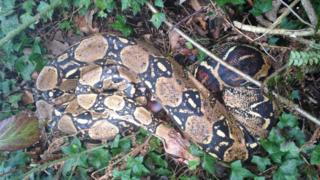 A boa constrictor had to be put down after being beaten and dumped in Pembrokeshire.
A dog walker discovered the injured 7.5ft (2.3m) snake in a country lane close to Walwyn's Castle, near Haverfordwest.
The RSPCA said the injuries were thought to have been intentional and caused a brain injury.
Animal collection officer Ellie West said the snake had "suffered so much pain and distress".
"It looked like someone had tried to kill her and thought she was dead, but she was still alive and was just dumped near a country lane. It is really upsetting," she added.