Scott Bevan: Swansea Prison cell death was accidental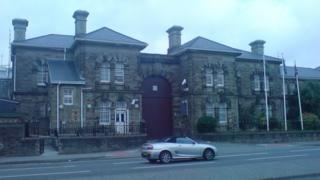 The death of a man found hanged at Swansea Prison was an accident, an inquest jury has concluded.
Scott Bevan, 22, was found dead in his cell on 18 September 2010, days into his eight-month sentence for assault.
Both police and prison staff were criticised during the inquest at Swansea Coroner's Court.
Evidence in the case was destroyed, with coroner Caroline Sumeray calling one police officer's actions "utterly unacceptable" and "crassly stupid".
Ms Sumeray also told mental health nurse Amanda Davies, who carried out Bevan's initial health screening, she had let herself down by leaving out information which would have given a fuller picture.
DC Simon Davies appeared as a witness to explain why the evidence was destroyed in 2015.
"I didn't think for one minute that the case would still be current," he said, but admitted he had not made inquiries about the case.
'Respectful'
Ms Sumeray said: "It's a mistake that's tantamount to contempt of court. I am horrified that any officer of your seniority could make that mistake.
"That evidence could have been fundamental to the case."
Items among the evidence which was destroyed included clothing from Bevan's cellmate and a razor.
Ms Sumeray said she would write a letter to South Wales Police, instructing officers to clarify with the courts whether a case was still active before destroying evidence.
During the inquest, jurors heard it was not Bevan's first time in custody and he had a history of drug abuse and self-harm.
But senior prison officer Alun Davies, who interviewed Bevan when he arrived at the prison, described him as being "respectful, polite" and "not the type of prisoner who was going to be a problem".
His death was investigated by the Prisons and Probation Ombudsman.