Boss jailed after worker killed in ditch collapse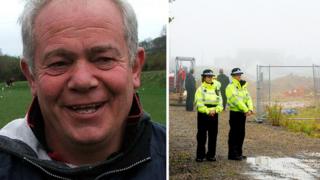 A construction company boss has been jailed after a worker was killed in a ditch collapse which buried him alive.
Glyndwr Richards, 54, was covered by soil in a drainage ditch while working for Ryan Construction at a Pembrokeshire Housing Association housing estate in June 2012.
William Ryan Evans, 54, of Trelech, Carmarthenshire, admitted breaching his duty of care to an employee.
He was jailed for six months at Swansea Crown Court on Monday.
Father-of-five Mr Richards, from Crymych, Pembrokeshire, was working in Letterston when he was killed.
He had gone into the trench to remove a clod of soil which had fallen and was blocking the newly-laid drainage pipe.
He died from traumatic asphyxia caused by being crushed by the weight of the soil.
The court heard a clerk of works for the housing association who had visited the site the week before Mr Richards's death had raised concerns with Evans about the lack of supports for the sides of the trenches being dug.
Similar concerns had also been raised by one of Evans's employees.
Judge Peter Heywood said the dangers of trench collapse were well-known in the construction industry.
He said Evans had chosen to ignore specific warnings given to him - something he described as "wilful blindness".
Speaking after the case, Mr Richards's daughter Anne Marie Wood said: "Hopefully lessons will be learnt and I think that's the message they have tried to get across with the jail sentence but no amount of time will bring our dad back.
"[I feel] angry, as anybody would, especially as we all know that health and safety in that type of environment, they look at it so carefully.
"To hear that warnings had been given and they had been ignored... [I feel] angry, sad."