Work has started on a new school at Seaside in Llanelli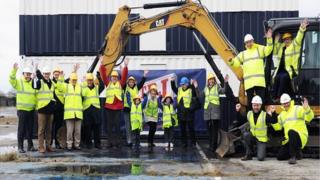 Work has started on the site of a new £11m school at Seaside in Llanelli.
It will replace Copperworks Infants and Lakefield primary schools, and will have the capacity for 420 pupils, along with 60 nursery places.
The new school is sited on the the former Draka site in Copperworks Road and will offer both Welsh and English medium education to children aged three to 11 years.
It is expected to be completed by the summer term of 2018.
The school is part-funded by the Welsh Government's 21st Century Schools initiative.
Carmarthenshire council leader, Cllr Emlyn Dole said: "This is a real boost to the schools and the community to see work start on this project.
"I look forward to visiting it again when it opens its doors to pupils."